Latest News
Hennepin County History Museum (Minneapolis, MN)
Click here to read the blog that references our own Pauline Fjelde Lodge in Minneapolis.
Interactive Lodge Map
Click on the Lodges tab to see our interactive map!  Or click this link, lodge map  
North Dakota - New Lodge Forming
Celebrate Valentinsdagen with the Daughters of Norway! See the article in the Minot Daily News!
Daughters of Norway organizational meetings continue on a monthly basis in Minot, North Dakota.  Join us by becoming a charter member!  Meetings are the first Sunday of the month at 1:30pm at the Minot Public Library, South Room - March 4, 2018 - April 8, 2018.  Sisters from across the country at Norsk Høstfest in Minot, North Dakota joined our organizational meeting in September!  For more information download our flyer.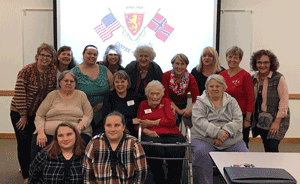 Norwegian Popular Music
Gundelach - Alone in the Night (live session)
AURORA (from Bergen, Norway) - Runaway Music Video
Norwegian Videos