Convention 2018
July 25 - 28, 2018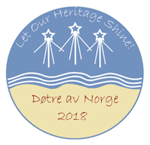 The Daughters of Norway sisters are excited and gearing up for our 2018 convention in Seaside, Oregon. Our convention theme this year is "Let Our Heritage Shine!"
The convention is being hosted by our sister lodges Stjernen #7, Frida Hansen #37 & Agnes Mathilde Wergeland #52. Check this page often as there will be new information posted until convention!  
The convention will be held at the Seaside Civic & Convention Center.
Registration Materials and Information (Registration Deadline is June 1, 2018)
2018 Daughters of Norway Convention Registration (posted March 11, 2018)
2018 Daughters of Norway Cultural Day Information (posted March 12, 2018)
2018 Daughters of Norway Convention Excursions (posted March 12, 2018)
2018 Daughters of Norway Convention Transportation (posted March 27, 2018)