Anna KolbjØrnsdatter Lodge #36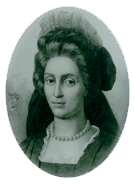 Anna Kolbjørnsdatter
(1665–1736 )
Founded: March 13, 1988, San Francisco, CA
Meeting Details
When: Second Sunday of month at 2:00 pm (The lodge does not meet in July & August)
Where: Grace Evangelical Lutheran Church, 33rd and Ulloa, San Francisco, CA
Contact Us:  Click on this link to contact us.  Be sure to list our lodge if you want more information from us!  Please allow seven days for a return message. Tusen Takk!

Our lodge is planning to have a Bunad Fashion Show with Music & Tea Luncheon. Sunday, April 9th at 2 pm at our usual meeting location.
We are hoping that ladies who would like to model their Bunad!
Those participating by wearing a Bunad will pay $25 and those attending but not participating are charged $35. Children are $10.
All are welcome! (men/women/children)
Lodge Highlights
Anna Kolbjørnsdatter Lodge, also known as Anna K, is the largest California lodge. Members are actively involved in the Scandinavian life of the Bay Area. The group actively participates in San Francisco's annual Norway Day Festival every May including troll skit performances, reading children's stories, multiple heritage booths, and participating on the Norway Day Board.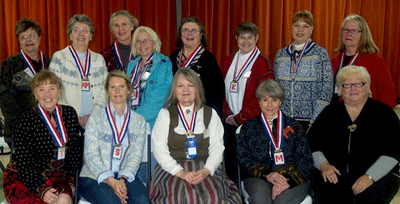 Installation of 2014 Officers
Many lodge fund raisers help generously support the Daughters of Norway Scholarship Fund. In Addition, there are many independent groups within the lodge that meet separately to stitch, rosemal, scrapbook, study genealogy, perform skits, and make Viking dresses. Members share a love of fun and a desire to learn and share.
Some of the lodge's varied Scandinavian programs are:
Summer Educational Field Trips
Cultural Events & Celebrations
Musical, Dramatic & Dance Performances
Crafts such as: The Art of Wool Felting & Scandinavian Wheat Weaving & Rosemaling
Norwegian Wood Architecture (from Stave Churches to Modern Lines)
Cultural (Nordic Gods; Bryllup: A Norwegian Wedding; Primstav: The Ancient Norse Calendar Stick; & "They Painted Norway: A Historical Look at Norwegian Art")
Heritage (Favorite Nordic Keepsakes; Your Story — A Writing Workshop
How to write your family history; & "I Remember Mama" — Sharing Something About Your Mother)
Christmas demonstrations (Favorite Norwegian Christmas Recipes)
Workshops & Christmas Tree Fest — annual party complete with Nordic foods & entertainment
Lodge's Name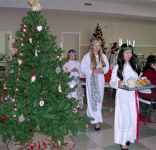 Santa Lucia Procession at 2013 Julefest.
A Daughters of Norway lodge had previously existed in San Francisco honoring Anna Kolbjørnsdatter, but the name was spelled, Anna Kolbjørnson. The members of the new lodge thought it proper to honor the same woman, but used the appropriate gender ending to her name (i.e. datter).
She is considered the heroine who saved Norway from being captured by the Swedish army. She also saved the silver mines in Kongsberg from being taken by Sweden in 1716.