Anne Grimdalen Lodge #34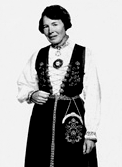 Anne Grimdalen
(1899–1961)
Founded: February 22, 1987, Cupertino, CA
Meeting Details
When: Second Saturday of month at 9:30 am (Lodge does not meet in July)
Where: Oliver Ruud Community Center at Sunny View, 22445 Cupertino Road, Cupertino, CA
Contact Us:  Click on this link to contact us.  Be sure to list our lodge if you want more information from us!  Please allow seven days for a return message. Tusen Takk!
Lodge Highlights
2016 Board of Officers:  Back Row (L-R) Liane Finstad - Trustee, Mary Carlson - Judge,
Anita Tysseland - Greeter, Linda D'Amico - Secretary, Annette McSheffrey - Musician,
Mary Patrick - Greeter, Laura Rohwedder - Financial Secretary, Harriet Candelaria - Trustee,
March Schlink - Cultural Director.  Front Row (L-R) Kathy Moe - Marshall, Jeannie Thomson - Cultural Director,
Karen Barker - Co-President, Pat Pangrac - Co-President, Sidney Mygatt - Treasurer
Anne Grimdalen lodge offers members San Francisco's South Bay area and further, from Los Altos all the way to Monterey County, a place to share and enjoy Nordic heritage. Social time with coffee and a smorgasbord of treats begins 9:30, followed by a meeting and program.  Guest speakers bring their expertise and love of Nordic culture and traditions in interesting and unique programs.  Members can also join  three interest groups:  Rosemaling, Hardanger embroidery, and a Writers Group.  The Writers Group was founded in 1997 and has yielded four published books and numerous short stories of the Norwegian-American experience captured for future generations. Our members also enjoy the camaraderie of participating in various Lodge craft sessions throughout the year to prepare for our annual butikk and other fund-raisers.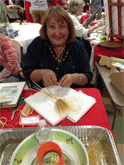 Wheat-weaving Nordic hearts          Blottake for Syttende Mai
Recent programs have included:  
Genealogy Workshop 
Hardanger Fiddle Demonstration
The Legacies of Our Family Heirlooms
Seven Notable Norwegian Artists Before Munch
Norway's UNESCO World Heritage Sites
Hand-Bell Christmas Concert by St. Olaf College Alumnae

Norwegian-American Life in the "Han Per and Han Ola" cartoons of Peter Rosendahl 

Traditions such as Mother's Day (February) and Easter (Paskeris)
Travelogues: "Intriguing Iceland" and "Hurtigruten Adventure"
Folk Crafts:  Textile & Weaving with Master Weaver Doris Burgess, Spinning with Lynn Curry of Sequoia Lace Spinners, Wheat Weaving with Jan Huss of The Straw, A History of Rosemaling & Demo with Shaun Sasaki, and Henning Wood Carving Collection.
Annual Events:
Lodge Anniversary Celebration

Syttende Mai Party

August Rose Garden Picnic

November Nordic Butikk
December Jul Luncheon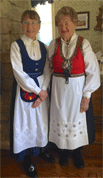 Sisters in Bunads 
Lodge's Name
The lodge was named for a noted sculptress Anne Grimdalen, born in 1899 in the Telemark region of Norway. She is most famous for the three colossal sculptures which decorate the facade of the Oslo City hall and figures on the large fountain adjacent to that site.  In addition to her sculptures based on historic themes, her figures of animals and Norwegian people are famous and well-loved.