Embla Lodge #2

Founded: April 24, 1907, Tacoma, WA
Meeting Details
When: First Thursday of month at 6:00 pm (meetings can vary, contact lodge for details)
Where: Bethlehem Lutheran Church, 101 East 38th Street, Tacoma, WA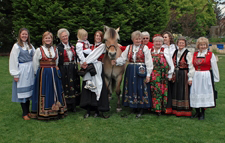 Embla Members with Fjord Horse
Classes offered at: Pacific Lutheran University's Scandinavian Cultural Center, 122nd & South Park Avenue, Tacoma, WA.
Contact Us:  Click on this link to contact our lodge.  Tusen Takk!
Lodge Highlights
Embla was chartered by the Sons of Norway of the Pacific Coast over 100 years ago. The lodge joined with Valkyrien Lodge #1 of Seattle and Freya Lodge #3 of Spokane to form the Grand Lodge Daughters of Norway on the Pacific Coast on February 20, 1908. Embla Lodge helped co-found and is an annual participant in Scandinavian Heritage Festival (first weekend of October), held at the western Washington Fairgrounds in Puyallup, Washington. Embla also participates with other local Norwegian organizations to plan the annual Norwegian Heritage Festival, held on the last Saturday of February at Pacific Lutheran University (PLU). The lodge offers a variety of Norwegian cooking classes at PLU. In addition to the varied Norwegian cultural programs and parties offered at lodge meetings, Embla Lodge has various craft groups.
Embla Lodge #2 Officers 2016
Hard working group of sisters!


A few of the many popular programs the lodge has offered are:
Craft Programs
Hipp, Hipp, Hurrah!
Christmas in Norway
History of Skiing in Norway
Nordic Cruise of Puget Sound
History & Language Programs
Norwegian Holiday Fests & Events
Musical programs & entertainment
Education on Edvard Grieg & other Norwegian composers
Day to Day Life of Women in a Viking Household, PLU Scandinavian Archives
Lodge's Name
Embla Lodge was named for the first woman of the human race according to Norse Mythology. Askr and Embla are to the old Norsk religion what Adam and Eve are to Judaism and Christianity. Askr (Ask) and Embla were created from two trees on the seashore by three gods, Odin and his two brothers. The first god gave them life, the second understanding and the third their outward appearance.