2018 Events
Døtre av Norge ønskes deg velkommen til å delta i våre begivenheter!  Vi har et fantastisk søsterskap.  Bli med oss i å bevare vår kulturarv. (The Daughters of Norway welcomes you to participate in our public events!  We have a wonderful sisterhood.  Join us in preserving our heritage.)
Check the "list of lodges" to find a lodge near you!  
April 2018 - Pacific Northwest - Skandia Music, Dance and Class Events (Download PDF Flyer)
April 8, 2018 - Minot, North Dakota - Organizational Lodge Meeting, 1:30 PM at the Minot Public Library, South Room, 516 2nd Avenue SW, Minot, ND 58701.  There is a meeting, cultural program and refreshments. Program this month is Nordic Easter Traditions.  Download PDF Flyer for more details.
April 14, 2018 - Mission Viejo, California - Scandinavian Heritage Fair sponsored by the Turid Jespersen - Lodge #44.  The fair will be held at the Norman Murray Community & Senior Center - 24932 Veterans Way, Mission Viejo, CA.  11:00AM - 3:00PM, Admission $1 per adult - Children free.  Join our sisters in celebrating Scandinavia!  There will be displays and demonstrations, Viking Jewelry, knitting and Norwegian Hardanger, embroidery, rosemaling, weaving and baking.  The bake sale will feature Lefse, Kransekake, Appleskiver, Norwegian Waffles and more!  Admission, lunch items and bakes goods will be cash only.  For more information, download our PDF flyer.  
April 28, 2018 - Sioux Falls, South Dakota Nordic Crafts & Bake Sale sponsored by the Borghild M Dahl - Lodge #54. Join us at St. Mark's Lutheran Church, 2001 South Elmwood Avenue, Sioux Falls, South Dakota 57105.  Join us from 10:00am to 3:00pm. For more information download our PDF Flyer.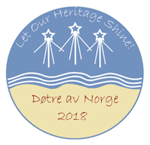 July 25 - 28, 2018 - Seaside, Oregon 2018 Daughters of Norway Convention!  Let Our Heritage Shine! Hosted by the following lodges: Stjernen #7, Frida Hansen #37, and Agnes Mathilde Wergeland #52. You can find more convention information on our 2018 convention page.  We welcome new members and hope you will enjoy looking at our photos from the 2016 convention.
September 25, 2018 - Minot, North Dakota New Lodge Institution.  We are so happy to have more sisters in North Dakota!  More information to come!  Click here to see feature stories in the Minot Daily News.
October 6, 2018 - Edgewood, Washington Nordic Festival.  Mt. View Lutheran Church.  More information to come.