Eva Nansen Lodge #46


Founded: November 5, 2006                  Des Moines, IA
Meeting Details
When: First Tuesday of month at 7:00 pm (No formal meetings held in January, June & July)
Where: Immanuel United Methodist Church, 2900 49th St., Des Moines, IA       Phone Contact:  515-255-8937  Email:  lodge contact 
Taste of Norway
1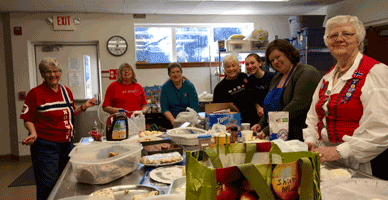 2 
3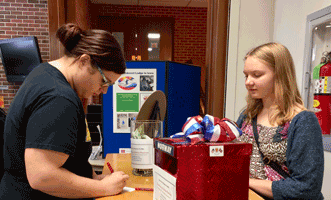 4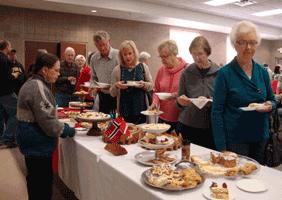 5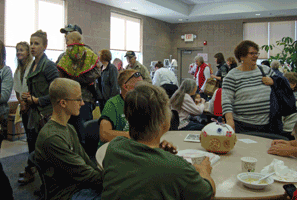 6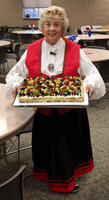 1 Kitchen Crew preparing for Scandinavian coffee and lunch.  2 Lefse demonstrations throughout the day with Kay Sacquitne and daughter Rachel.  3 Welcome table and Scandinavian coffee pastries drawing with Naomi (Shirley McLaughlin's granddaughter) and guest. 4 Taste of Norway 2016 Scandinavian coffee and lunch. 5 Taste of Norway 2016 attendees enjoying fellowship, lunch and visiting the Scandinavian gift shop vendors.  6 Sandy Hansen made Kvæfjord Cake for the Taste of Norway lunch.
2017 Lodge Officers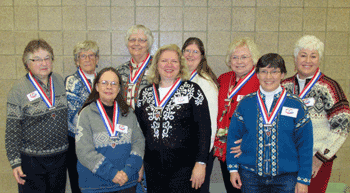 (L to R) Front Row:  Christy Wilkins (Cultural Director, Musician), Kay Sacquitne (Secretary), Jane Beeman (Asst Marshal) Back row:Shirley McLaughlin (Judge), Jan Glenn (3rd Trustee & Greeter), Pat Fischer (Treasurer), Jan Evans (Financial Secretary), Sharon Knudsen (Vice President), and Becky Patterson (President).  Absent:  Cheryl Newsom (Marshal, Greeter)
Lodge Highlights
Origin.  Scandinavians began immigrating to Iowa as early as the 1830s and 1840s where they settled mostly in central and northern Iowa.  According to the 2000 Census Bureau, Iowa's Scandinavian American population is 338,161 or 11.5%;  LINK: http://en.wikipedia.org/wiki/Scandinavian_American
Eva Nansen Lodge #46 became the first Iowa lodge to bear the name Daughters of Norway on November 5, 2006 with forty-six charter members representing Norway, Denmark, and Sweden ancestries.  It is a 501c-8 non-profit organization.  Membership is available not only to Norwegians, but women with Danish, Swedish, Finnish, and Icelandic connections.
About Us.   Monthly lodge gatherings are guided by a thirteen member board elected each November and installed in January.  Lodge Sisters freely volunteer their talents and services throughout the year by serving on committees, hosting, program presentations, and providing delicious Scandinavian and American foods. 
Keeping in touch with your Nordic heritage and bonding friendships are primary interests.  Sisters take delight in being entertained by guest speakers presenting Scandinavian programs pertaining to history, travelogue, genealogy, music, area costumes, jewelry, folktales, needlework, crafts, literary works, and social traditions.  The ever-popular demonstrations and hands-on workshops offers opportunities for members and guests to discover and learn "how to" in making culinary favorites, arts and crafts.  Summertime is for Iowa field trips to Elk Horn's Danish Museum, Story City's Scandinavian Days, Decorah's Nordic Fest, Ames' Bethesda Lutheran Church Scandinavian Coffee and Bazaar, shopping Scandinavian Iowa gift shops, e.g., Vær Så God; also for individuals traveling out of state or to Scandinavia.
Throughout the year the lodge invites guests and family to celebrate (May) Syttende Mai, and (Dec) Julefest; in October sisters sponsor Taste of Norway that's open to the public.  Des Moines area Sons of Norway, Danish and Swedish groups have special events that our Sisters enjoy participating in when invited. In even years, sisters attend the Daughters of Norway biennial convention.  Eva Nansen Lodge 46 and Pauline Fjelde Lodge 51 co-hosted the July 16-19, 2014 Grand Lodge Daughters of Norway convention in Bloomington, MN.  The next convention will be July 22-24, 2016 in San Francisco, CA.
Lodge Inquiries.  Want to Learn More?  Tell Me More!  Interested in becoming a part of Daughters of Norway - Eva Nansen Lodge 46?  Wonderful!  Send an email to lodge contact and include your name, email address and phone number along with message, questions, etc.   We will contact you soon.  We'd love to hear from you!
Eva Nansen Lodge 2016 Judge Shirley McLaughlin &
President Becky Patterson 
The lodge's Nordic programs have included:
Music
Genealogy
Travelogue
Rosmaling
Famous Artists
Nordic Fashion Show
Immigration to America
Woodcarving workshops
Hardangersøm Embroidery
Nordic celebrations & parties
Craft & wheat weaving workshops
Food workshops & demonstrations
Syttende Mai & Julefest Smørgåsbords
Lodge's Name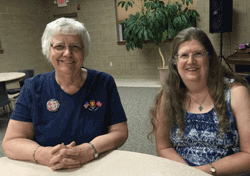 Lodge Treasurer Pat Fischer & Financial Secretary Jan Evans
Lodge 46 was named in honor of famous Norwegian romance opera singer, Eva Helene Sars Nansen (born Dec 17, 1859 in Christiania, Akershus, Norway and deceased Dec 9, 1907 in Lysaker, Bærum, Akershus, Norway).  She was the youngest of 21 children of Michael Sars and Maren Cathrine Welhaven.  At age 28 Eva left for Berlin to study opera with a contemporary of Tchaikovsy.  Eva knew Norwegian composer Edvard Grieg and she performed his music beautifully.  Eva was relatively short, but very athletic and became a pioneer in mountain and cross country skiing.  She was a smart and practical woman and realized the need for women to stop wearing only dresses while practicing the sport.  Thus, she became the first woman in Norway to wear "trousers" while skiing!
 Eva married ski pioneer, famous Norwegian explorer and scientist, Fridtjof Nansen on Sep 6, 1889.  They were a very "modern" couple, both continuing their individual vocations after their marriage.  Eva not only continued to sing in operas at home and in other parts of Europe and Scandinavia, but she also gave lessons when at home.  At the age of 49 (1907), she sang in a final concert at a well-received performance in London.  Not long afterwards that same year, Eva died suddenly of pneumonia.  That left her husband a widower with five relatively young children to raise: Liv (14), Kåre (10), Irmelin (7), Odd (6), and Åsmund (4).