Norwegian Arts
Rosemaling
Although rosemaling is a Norwegian folk painting tradition, it is thought to have been brought to Norway by traveling European painters. Gradually, the Norwegians developed their own particular style and palette. Rosemaling spread from one region to another beginning in Southern Norway and spread throughout the country, with each region developing a distinctive style. However, all styles are distinguished by the Rose, in various shapes and sizes and specific strokes. By the seventeen hundreds rosemaling was already being used to decorate Norwegian furnishings and homes.
Rosemaling has been passed down from generation to generation and was transferred to other countries by Norwegian immigrants. Today, it is popular both in Norway and the United States. In the United States the Vesterheim Museum in Iowa has the best historical collection of Norwegian-American rosemaling art.
D of N has many accomplished rosemalers, and many lodges offer classes.
Norway House - ". . . connects the United States and contemporary Norway through arts, business, and culture."
Rennebumartnan (Norwegian Arts & Crafts)
Swedish Rosenal

Similar to the Norwegian rosemaling style of painting is the Swedish Rosenaling folk painting style. Rosenaling is a decorative painting style that employs techniques that are different from the Norwegian style of rosemaling. The style came from central Sweden in the regions of Dalarna, Halsingland and Harjedalen. Thus, there are regional variations in this painting style. The style includes the use of the kurbits painting technique that is also used in painting Dala horses. This style uses two colors of paint on one brush.
Norwegian Knitting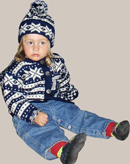 Sweater knit by Mary Ahsley
Sigrid Undset Lodge #32
Norwegians have been knitting since the ninth century. Sheep were plentiful, the climate was cold, and wool clothing was a natural choice. Norwegian sweaters began as black and white combinations made from natural wool colors, and eventually became multicolored combinations. Patterns evolved from natural designs, such as the snowflake or reindeer. Originally, the sweater was tucked in, so the design was only found on the top.
Many Daughters of Norway Lodges have members who are gifted in knitting sweaters, socks, mittens, gloves, blankets and afghans in traditional designs or sometimes designing their own motifs. Occasionally our lodges will have programs in which members show off their Norwegian sweater collections.
Hardanger Embroidery
This form of embroidery takes its name from the coastal town in southwest Norway where it developed a distinct style and is still used as decoration on the apron of the folk costume, or bunad of that region. It is also used for decorating tablecloths, napkins, towels, bedspreads, pillows and curtains.
Hardanger embroidery combines drawn and counted thread work, along with satin stitch. It is done on an even-weave fabric, traditionally linen, with pearl cotton or linen thread, again traditionally natural color white on white or cream on cream.
The historical origin of this type of embroidery may have been in ancient Persia. It traveled through Byzantium to Southern Europe where it was popular during the Renaissance. It may have reached Northern Europe and Norway through the Crusaders or the Vikings. Hardanger is related to Danish and Dutch Hedebo, English Ayrshire work and Ruskin lacework and was earlier known as Norwegian Drawn Work.
American thread companies visited Norway at the end of the 19th Century and recorded local designs to produce books of patterns. At the Paris Exposition of 1900, an apron with Hardanger embroidery by Brita Skalveit of Aga, in the Hardanger district, won an award and Hardanger embroidery became known worldwide.
Many Daughters of Norway lodges have members teaching this style of embroidery. Contact a local lodge to find out more about their upcoming program and lesson offerings. One resource to find thread for all types of needlework is The Caron Collection.

Norwegian Folk Dance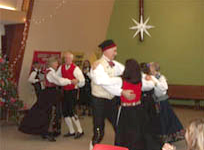 Nordahl Grieg Leikarring & Spelemannslag
perform at lodge Christmas party
Early Norwegians had music and dances of their own, but as Norwegians interacted on a regular basis with other Europeans, their music and dance changed. Norwegians incorporated European (primarily French) instruments, dance steps, and even dance attire into their traditions. However, the things that remained strictly Norwegian were the Norwegian musical melodies. These were practiced and passed on by generations of Norwegians living in remote locales.
Today's Norwegian folk dancing is thought to have started sometime in the mid seventeenth century. As Norwegians emigrated to other countries beginning in the eighteen hundreds, they took their Norwegian dances with them and continued to dance them in their new country. In countries outside of Norway, the dances remained somewhat "frozen in time" and tend to focus on retaining the core movements of each dance. These dances are still done in Norway today with both subtle and rich variations, characteristic of a living tradition.
Norwegian dancers perform in the national Norwegian bunad, a folk costume. The unique bunader(bunads) and other traditional dress from the many different regions of Norway always assure an interesting visual spectacle. During the 1994 Olympic Games in Lillehammer, world audiences could see The Hedmark Danselag (founded in 1991) performing selections of Norwegian folk dances. Norwegian folk dance is performed in many countries today. In the United States there are many multi-aged folk dance groups. Many of our members and their children are part of these groups. Daughters of Norway members participate in many dance groups and lodges do have programs where you can learn simple dance steps.
Norwegian Music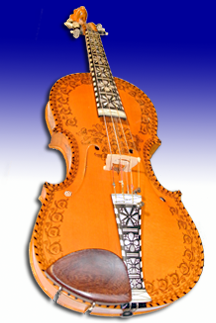 Hardanger Fiddle
The traditional music played for dancing is provided by traditional instruments, most often the fele (ordinary flat fiddles), trekkspel (accordion), torader (Norwegian concertina), tussefløeyte (recorder), langeleik (Norwegian zither), hardingfele (Hardanger fiddle), munnharpe (mouth harp), guitar, piano, and various horns and flutes. Many of these instruments are thought to be European in origin, and industrious Norwegians improved upon certain of these instruments, the most well known being the Hardanger fiddle which is different from a violin or fiddle. The Hardanger fiddle has four or five sympathetic strings that run underneath the fingerboard and add echoing overtones to the sound. This fiddle is beautiful with elaborately decorated mother of pearl inlays and black pen and ink drawings.
Norwegian Damekor
Damekor means, "Ladies Chorus" in Norwegian.  You don't have to speak Norwegian to sing in a damekor. Many of the Daughters of Norway lodges have a lodge damekor or are affiliated with one, in which many of our Daughters of Norway sisters are members.
Bellingham Washington Damekør - affiliations with the Nellie Gerdrum Lodge #41, Bellingham, WA
The Damekør - affiliations with the Pauline Fjelde Lodge #51, Minneapolis, MN
Nordic Ladies Chorus - affiliations with the Thelma Lodge #26, Everett, WA