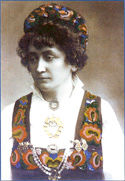 Hulda (Bergersen) Garborg
(1862–1934)
Hulda Garborg Lodge #49
Founded: August 29, 2009, Rainbow, CA
Meeting Details
When: Second Saturday of month:10:00 am meeting, 11:00 program, 12:00 lunch (Does not meet July and August)
Where: Fallbrook Woman's Club, 238 West Mission Road, Fallbrook, CA 92028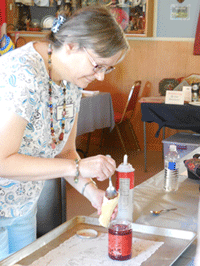 Filling krumkake
The Hulda Garborg lodge meets in Fallbrook. Presently, members live in three different counties; Orange, Riverside and San Diego. Ladies interested in joining the Lodge can call Diane at (760) 724-6331 or email swedegirl70@gmail.com
Hulda Garborg Newsletter - October 2023

Lodge Highlights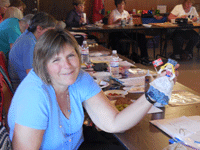 One of our newest members 
with the doll she made in our  workshop 
Hulda Garborg Lodge, the second Southern California lodge in recent years, offers women a place to share their Scandinavian heritage. As members learn about Nordic traditions and contribute to the local communities, they make new friends with common interests. The lodge encourages women in Orange, Riverside and San Diego counties to join them as they explore Scandinavian culture in various ways.
The lodge participates in the yearly Viking Festival (September) in Vista with the Sons of Norway Lodge. Several lodge members are also members of the Southern California Damekor, a Norwegian women's choir founded by one of their charter members, Lynne Bradley. If you are interested in joining the choir contact Lynne at lbradley93168@roadrunner.com.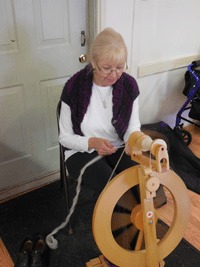 Guest presenter Laurel
demonstrating spinning
The lodge has conducted workshops such as:
Rosemaling
Floral head wreaths
Scandinavian doll making
Cookie baking
Hulda Garborg members have enjoyed such Scandinavian programs as:
Spinning Demonstration
Kilimanjaro Adventure by Norwegian member
Norwegian Winter Olympic Gold Medalists
Invasion and Occupation of Norway in WWII
Scandinavian Cooking Video
Like Hulda, our members have many talents, including sewing, choir directing, fiddle playing and teaching, baking and writing.

Ladies in their Bunads & Everyday Dresses
Lodge's Name
The lodge is named after Hulda Garborg, born Karen Hulda Bergersen on February 22, 1862 in Stange, Hedemarken, Norway. She lived at a time when nationalism was strong in Norway at the turn of 20th century. Hulda acquired many talents as she worked hard to promote all aspects of Norwegian culture during her life. She is best known for authoring the first book on bunads in Norway and preserving Norwegian folk dances, collecting Norwegian recipes as well as founding the Norwegian Theatre. She published many other literary works and articles, ranging from cooking, poetry, plays and novels. Karen was an active participant in contemporary debates and politics as she worked for reform. In 1932, she was appointed Knight, First Class of the Royal Order of St. Olav, a distinguished Norwegian award from the King. In 1934, Hulda Garborg passed leaving an enduring legacy of preserved Norwegian culture and heritage for all of us to enjoy to this day.