Turid Jespersen Lodge #44
Founded: November 15, 2003, Mission Viejo, CA
Meeting Details
When: Third Saturday of month at 10:00 am (Lodge does not meet in July & August)
Where: Laguna Hills, CA 92653. 
Contact Us: Call or email Heidi at  larkinreed@yahoo.com, 760-250-9076
Facebook: https://www.facebook.com/Daughters-of-Norway-Lodge-44-Turid-Jespersen-111702534329077
Lodge Highlights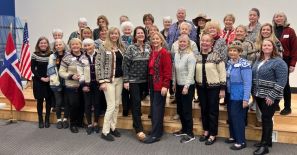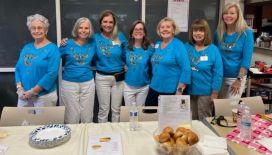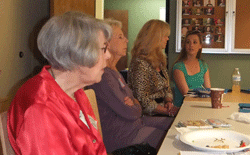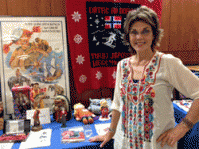 Turid Jespersen Lodge #44, located in sunny Orange County, California, offers its members a fun and tradition-rich club. The lodge actively shares its Scandinavian heritage with the local community and lodge members. Members participate in travel adventures to Scandinavia and other nearby festivals. Also, they host many Nordic activities including a Lutefisk and Meatball dinner, a Heritage Festival, and a family Christmas smörgåsbord.
Recent activities the lodge has offered include:  our Christmas dinner at the Mission Viejo Elks Club in December; in January we installed our new officers and initiated some new members; in February we learned how Olav Trygvason brought Christianity back to Norway in 995, and where the Moster Church was built; then in March we met the only female saint that Norway has ever had – she was an Irish King's daughter fleeing an unwanted marriage and ended up on Selje Island; April's program will be about Kirsten Flagstad, "The Voice of the Century" – she saved the Metropolitan Opera by singing "Sieglide" from Der Walkure; in May we will celebrate Syttende Mai at the Dana Point Baby beach; and in June we will hear about Norwegian Polar Explorer, Fridtjof Nansen, he won a Nobel Peace prize in 1922.  Our programs are outstanding programs and always informative.
Nordic programs the lodge offers have included:
Skits
Trips
Travelogues
Emigration Stories
Norwegian Lessons
Gingerbread Creations
Norway & the Marshall Plan
Nordic Celebrations & Parties
Norwegian Sweater Fashion Show
Stitchery & Rosemaling Workshops
Food Workshops & Demonstrations
Crafts including Nordic Skier Nisse Napkin Rings
Lodge's Name
The Lodge took its name from a relative of one of its members, who was famous in Norway during the period of 1930-40. Turid Jespersen was born Liv Turid Jespersen on February 22, 1917, in Oslo, Norway. She was an avid skier and in the 1930's was considered a leading Norwegian downhill ski racer with plans of participating in the 1936 Winter Olympics in Germany. However, during the Olympic trials, she broke her leg and her dream of representing Norway in the Olympics was dashed. Later, Turid went into covert action during WWII when Germany occupied Norway. At this time, Tu, as her family called her, became a courier for the Norwegian Resistance and skied memorized military information from one Norwegian outpost to another, without being detected. Eventually, doing this became too dangerous and Turid joined her brother, a Norwegian pilot, and other Norwegian Resistance members in Canada.
While in Canada during the remainder of WWII, she met and married Fritz Thoresen, a fellow Norwegian military pilot who taught flying. The two lived in an area somewhat near Toronto called "Little Norway" where the Royal Norwegian Air Force trained. While in Canada, they had their only child in 1943, Kjell Thoresen. At the end of WWII, they returned to their beloved Norway and lived in Oslo. Fritz continued flying upon his return and worked for SAS (Scandinavian Airlines) and Braathens (a Norwegian airlines). Fritz lost his life in 1960 as a passenger on an SAS Caravelle that crashed over Ankara, Turkey. After his death, Turid moved to the Washington DC area, where she worked as a ski instructor. Interestingly enough, one of her first students, was the first US Astronaut and a future senator, John Glenn. Lorenzo Custis Lewis (one of her students), of Lincoln, Virginia became her second husband.
The Lewis' lived at the foot of the Blue Ridge Mountains where Turid enjoyed the beauty of the Virginia countryside. During her life, Tu also co-authored a book based on the memoirs of her older brother, Finn Jespersen, the pilot and ex-veterinarian for The King of Norway's summer's house. She remained an avid cross-country skier into her 70's. However, she suffered a stroke and died at age 74 on January 17, 1991. She was buried in Lardahl at the Hem Kirke, an old Viking Church in Vestfold, next to her first husband and son.