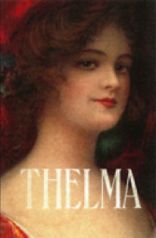 Artistic Drawing of
Fictional Character Thelma
Thelma Lodge #26
Founded: May 7, 1908, Everett, WA
Meeting Details
When: Third Saturday of month at 10:00 am (Lodge does not meet June, July & August)
Where:   Meetings held at the Normana Lodge located at, 2725 Oakes Ave, Everett, Wa 98201   
Contact Us:  Click link to contact us. Tusen Takk! 
Lodge Highlights

Thelma lodge has enjoyed Nordic heritage and friendship amongst its members for over one hundred years. The lodge originally was associated with the Daughters of Norway of the Midwest and later joined with the Daughters of Norway of the Pacific, retaining its lodge number.
Lodge programs and activities focus on members' shared Norwegian and Scandinavian backgrounds. The program presentations are varied, interesting and enjoyable.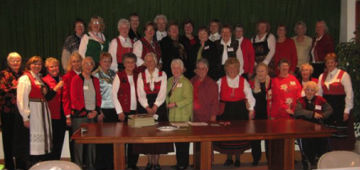 Lodge Members
Nordic programs include:
Bunads
The Sámi
Viking Life
Celebrations
Stave Churches
Norwegian Tiner
Nordic Folkdancing
Lace Making & Tatting
Nordic Postage Stamps
Norwegian Fjord Horses
Discovering Nordic Foods
History of Norwegian Sweaters
Traditional Norwegian Christmas
Traditional & Contemporary Music
1  2   3  4
1) President: C. Otterness  2) Vice President: M. Hecht  3) Treasurer: N. Johnson  4) Recording Secretary: C. Miner
Lodge's Name
The lodge takes it's name from the protagonist in a romantic novel written by the English writer Marie Corelli, who was a best-selling author in Victorian England and eventually in America. Her romantic tale of a Viking princess, Thelma, captures the heart with the tale of true love and devotion by the fair Norwegian maiden Thelma. The book was a best seller in America in the late 1800's to early 1900's. Hollywood produced four separate films based on this book between 1916 and 1921. In addition, a song about the Norwegian maiden Thelma was popularized and captured the hearts of many.