Anna Kolbjørnsdatter Lodge #36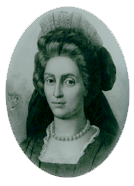 Anna Kolbjørnsdatter
(1665–1736 )
Founded: March 13, 1988, San Francisco, CA
Meeting Details
When: Second Saturday of month at 10:00 am (The lodge does not meet in July & August).
Where: Currently, the lodge is holding meetings and cultural classes on the internet meeting platform - Zoom.  When the lodge is able to meet in person again, we will meet at the Norwegian Seaman's Church - 2454 Hyde St., San Francisco
Contact Us:  Click on this link to contact us.  Be sure to list our lodge if you want more information from us!  Please allow seven days for a return message. Tusen Takk!

Lodge Highlights
Anna Kolbjørnsdatter Lodge, also known as Anna K, is one of the San Francisco Bay Area Lodges.  Members are actively involved in the Nordic life of the Bay Area.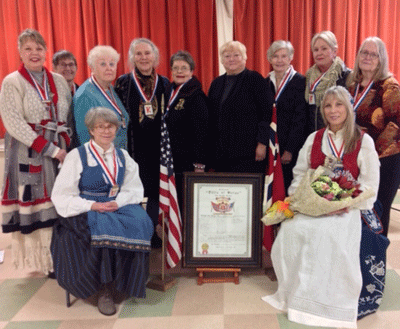 officers
San Francisco Bay Area Cultural Events & Celebrations
Musical, Dramatic & Dance Performances
Crafts such as: The Art of Wool Felting & Scandinavian Wheat Weaving & Rosemaling
Norwegian Wood Architecture (from Stave Churches to Modern Lines)
Nordic gods & Folklore
Bryllup: A Norwegian Wedding
Primstav: The Ancient Norse Calendar Stick
"They Painted Norway: A Historical Look at Norwegian Art" 
Favorite Nordic Keepsakes: Norwegian Antique Roadshow
How to write your family history: "I Remember Mama", Your Story - A Writing Workshop, Sharing stories of the Nordic women in your family tree. 
Christmas food demonstrations (Favorite Norwegian Christmas Recipes)
Jul Tre Fest: annual Christmas party sharing Nordic foods, entertainment, singing and dancing around the tree
Educational Summer Field Trips


Members Debra Jensen Orner, Borghild Neset & Grethe Holtan representing Akershus, Rogaland & Hordaland regions
Lodge's Name
A Daughters of Norway lodge had previously existed in San Francisco honoring Anna Kolbjørnsdatter.  It was the fourth lodge formed in 1908 of the the Døtre Av Norge of the Pacific Coast, but the name was spelled as Anna Kolbjørnson. This lodge disbanded in the 1960's and was re-organized in 1988 by Florence Buck and others, when they were beginning new lodges in the San Francisco Bay area. The members of the new lodge decided to name the lodge after the same woman, but used the appropriate gender ending to her name (i.e. datter).
Anna Kolbjørnsdatter is considered the heroine who saved Norway from being captured by the Swedish army. She also saved the silver mines in Kongsberg from being taken by Sweden in 1716.
The lodge logo was designed in 1998 by Charter Member Kay Isaacson (1920-2004), she served as Cultural Director from 1988 - 2004.