Uniting into a sisterhood, women who wish to preserve Norwegian heritage; maintain among members a knowledge of the history, culture and language of Norway; and build a strong support system and bond of friendship within the sisterhood. 
Norwegian Holidays and Observances - January
January 1 - New Years Day
January 21 - Princess Ingrid Alexandra's Day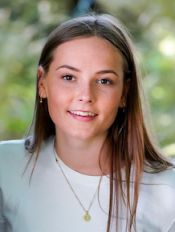 Born in 2004, Her Royal Highness Princess Ingrid Alexandra is the future of the Norwegian Monarchy.  She is second in line to the throne, behind her father, Crown Prince Haakon.  Her mother is Crown Princess Mette-Marit.  Her Grandparents are King Harald V and Queen Sonja.
Princess Ingrid Alexandra is the first Norwegian girl born as heir to the throne.   The constitution was changed in 1990, allowing a female royal heir.  She is very interested and active in environmental issues.  Her hobbies include kickboxing, skiiing, and surfing.  In 2020, she won the Norwegian surfing championship for juniors.


Velkommen
 (
Welcome!)
Tusen Takk (a thousand thanks) for choosing to visit our website! Whether you are a member or a woman searching to become part of a unique and special sisterhood we hope you will spend time browsing our pages. You will find our latest news, articles on heritage and culture, beautiful bunad photos, delicious Nordic recipes, a listing of our fabulous lodges and so much more! 
Our biennial convention was held in 2018 on the spectacular Oregon coast in Seaside and was graciously hosted by our Oregon lodges, Stjernen #7, Frida Hansen #37, and Agnes Mathilde Wergeland #52. It was a time of learning about our culture and heritage, conducting the delegate business meetings, and celebrating our sisterhood as we built ever closer bonds of friendship.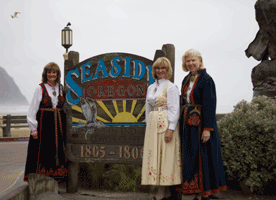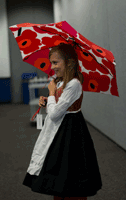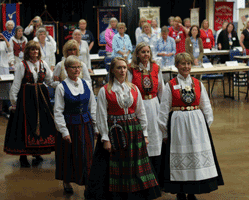 In 2021 our convention will be held July 22-24 at the beautiful Kitsap Conference Center located by the water in Bremerton, WA. The WA lodges of Thea Foss #45, Nina Grieg #40, and Prillar Guri #30 will be hosting their sisters. 
The very best way to learn more about our sisterhood is to attend a lodge meeting where you will be warmly welcomed. I invite you to click on our interactive map to locate a lodge near you. If no convenient lodge is located in your area, please consider joining us as an Associate Member, offering you an opportunity to be connected to our sisterhood without a lodge affiliation. Perhaps you will be inspired to start a new lodge in your area! Click on Contact/Join for further information.
                    Please join us as we……
                                                                 "Let Our Heritage Shine!!!!"
Karen Bartos, Grand Lodge President 
Advertise in our exclusive Døtre av Norge Magazine, Daughters of Norway Advertising Information & Rates.
Please consider making a donation for: Scholarships, Endowment, or the Organizational fund with the button below.  If you wish to make the donation in the memory of a person or on the behalf of a person, please let us know in the "notes" box in the paypal form.