Ester Moe #39

Ester Andersen Moe
(1905-1995)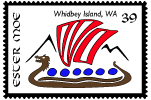 Founded: February 5, 1996, Clinton, WA
Meeting Details
When: Second Saturday of month at 9:30 am (Lodge does not meet July & August)
Where: St. Peter's Lutheran Church, 6330 S. Wilson Place, Clinton, WA
Join us on our Facebook Page!
Contact Us:  Click on this link to contact us.  Be sure to list our lodge if you want more information from us!  Please allow seven days for a return message.  Tusen Takk!
NORDIC FEST 
Enjoy our photos from last year below!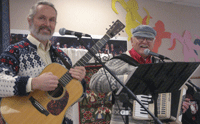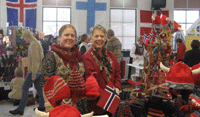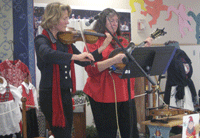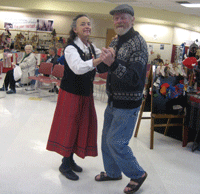 Lodge Highlights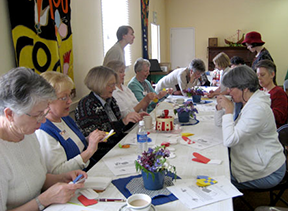 Ester Moe members making
Scandinavian paper hearts directed by
younger members
The Ester Moe Lodge has over 100 members ranging in ages from 13 to 96. Reflecting this wide age range, the lodge offerings are varied.
Members of Ester Moe Lodge encouraged the Scandinavian Language Institute to start teaching language classes on the island. The lodge also sponsors several events each year that offer the public exposure to Scandinavian foods, crafts, folk music and dance. Speakers and performers from around the northwest are invited to speak or perform at Ester Moe Lodge meetings.
Ester Moe members annually host the Nordic Fest on Whidbey Island which attracts many visitors in the fall. The lodge's fundraising profits are used to help students learn more about their Nordic background through Encouragement Scholarships to Camp Trollhaugen and to support the Young Scandia Dancers. Local food banks also benefit from the lodge's efforts. Ester Moe Lodge holds a family midsummer celebration including sleeping under the stars complete with a Swedish pancake breakfast.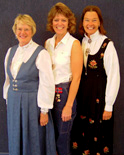 Ester Moe members
are a happy group!
Some of the monthly Nordic programs include:
The Art of the Rya Rug
Norwegian Ladies Chorus
Nordic Christmas traditions
Cultural events & celebrations
Knitting adventures & displays
Knut Erik Jensen Performance
Primstav (Calendar sticks) program
Artists showing techniques & creations
Norwegian weddings & the wedding chest

Member Judy Hadlock
demonstrates spinning
while another member
works on the needlework

Norwegian/American authors sharing their books
Crafts such as paper hearts & needle-felting trolls
Cooking workshops: Lefse, krumkake, smørdbrød & "fish cake" workshops
Travel adventures (heritage, adventure, ultrasports)
Cultural presentations on genealogy & history
Lodge's Name
The lodge was named for a Norwegian-American pioneer school teacher on Whidbey Island. Ester Anderson Moe was born in 1905 in Great Falls, Montana. She was the daughter of immigrant parents. Her father was a mine worker who longed to be a farmer. In 1906, with baby daughter Ester and all of their worldly possessions, Anders and Bertine Anderson took the train from Great Falls to Seattle. Anders bought 20 acres just south of Langley. Ester was active in school plays and the drill team in high school. She graduated with a class of three. Ester went on to Bellingham Normal School [now Western Washington University] and returned home to teach in the Deer Lake School. As a teacher, she participated in community activities, and Ester was in charge of many programs such as operettas, plays and basket socials, which were held in the Clinton Progressive Hall. Ester was the President of the Deer Lake PTA. Ester was active in St. Peter's Lutheran Church from 1923 on. She served as a Sunday school teacher to three generations, was the organist and choir director. She conducted Bible study classes for women and even occasionally gave the sermon. Ester was the Secretary of the Clinton Progressive Association in 1928.
President Franklin Delano Roosevelt appointed Ester as Postmaster of the Clinton Post Office, where she served for 29 years until she retired. She also served for many years as a Democratic Precinct Committeeman.
Ester was married to Carl Bergquist and they had two children, a daughter who lived only a few days, and a son who died of appendicitis at the age of eight. Much later she married John Moe who preceded her in death. She died in 1995.
Biography courtesy of Marilyn Gabelein, Elsie Olkonen and Pat Nostrand.