Solveig Lodge #31
Founded: April 6, 1986, Burien, WA

Meeting Details
When: October - April meetings are held the 2nd Saturday at 10:00 am. May, June & September meetings are held the 2nd Thursday of month at 7:00 pm. 
Where: Our Savior's Lutheran Church, 156 South 168th Street, Burien, Washington (Ambaum Boulevard South and South 168th Street)
Mailing Address: Solveig Lodge #31, PO Box 66421, Burien, Washington 98166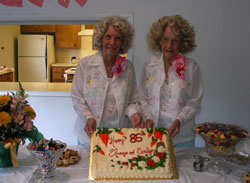 Eleanor Baker & Evelyn Lundstrom celebrate their 85th birthday!  
Contact Us:  Click on this link to contact us.  Be sure to list our lodge if you want more information from us!  Please allow seven days for a return message.  Tusen Takk!
Lodge Highlights
Solveig lodge is active in many regional cultural programs throughout the Greater Seattle region, including the Syttende Mai (17th of May) parade held each year in the Scandinavian neighborhood of Ballard northwest of Seattle.
In November members hold their annual Bit of Norway Bazaar. At this bazaar they sell delicious Norwegian baked goods and craft items made by members throughout the year. They also display members' Norwegian heritage items and demonstrate various Scandinavian arts, crafts and food preparation.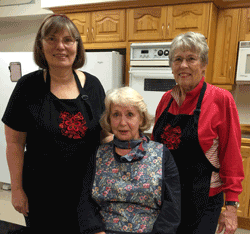 Kathi Skarbo, Janice Kelly & Marilyn Mahnke demonstrate delicious Norwegian recipes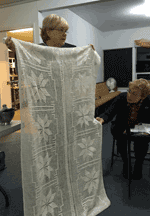 Anita Bibby shows her mother's 
crocheted table cloth
Scandinavian programs offered:
Nordic Crafts
Cooking & Baking
Dancing
Rosemaling
Wheat Weaving
Sharing Our Nordic Roots
Hardangersom (embroidery)
Julefest Celebrations & Programs
Lodge Birthday Celebration in April
Sankt Hans Annual Celebration/Picnic
Lodge's Name
The lodge's namesake Solveig, is the woman who loves Peer Gynt, the anti-hero of Henrik Ibsen's play Peer Gynt. Peer is a self-centered and irresponsible character who wastes his life as he jumps from one mountain top to another on his wonderful reindeer buck. Solveig becomes infatuated with Peer despite his faults. Peer is banished from the village and Solveig eventually goes to his mountain home to live with him forever. Peer is elated, but because his past confronts him that very day, he can never be her husband. He leaves her and tells her to always wait for him. He then leaves Norway and travels all over the world. She is faithful and devotes her entire lifetime, waiting for his return to their house in the mountains. Peer returns to Solveig to die together.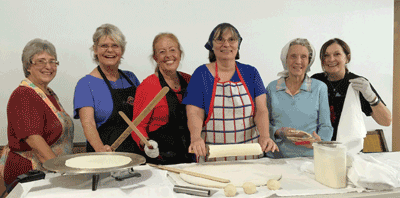 Pearl Kittelson, Carol Voigt, Patty Spangler, Kathi Skarbo, Eleanor Baker and Arlene Rankin have fun while making lefse!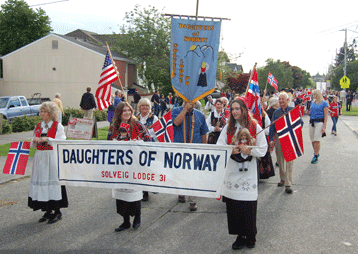 Solving Lodge marching in the Syttende Mai Parade in Ballard, Washington