Sigrid Undset Lodge #32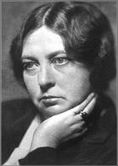 Sigrid Undset
(1882-1949)
Founded: February 21, 1987, Palo Alto, CA
Meeting Details
When: Third Saturday of month at 9:45 am (Lodge does not meet July & August)
Where: Brown Hall, Grace Lutheran Church, 3149 Waverley Street, Palo Alto, CA
Contact Us:  Click on this link to contact us.  Be sure to list our lodge if you want more information from us!  Please allow seven days for a return message.  Tusen Takk!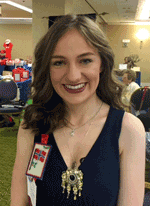 Enjoying convention! Diana, one of our youngest members.
Lodge Highlights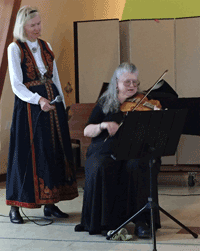 Guest Performer: Sarah Kirton
on Hardanger fiddle
Sue Larson in her bunad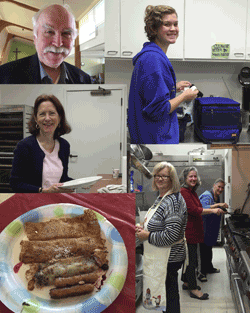 Swedish pancake breakfast - Simone von Kugelgen, Ann Bertigilia,
Karen Karen  Mallory von Kugelgen, Katie Allen & happy eater Ed Baird
Sigrid Undset Lodge offers members great educational programs, fun outings and great fellowship. Members actively participate in the annual San Francisco Norway Days held the first weekend in May. Meetings are held in beautiful Palo Alto, and conveniently located between San Francisco and San Jose. Small groups occasionally meet outside of lodge meetings to pursue common interests including Nordic cooking, crafts, needlecraft, crawfish dinners and literature.
A sampling of their past Nordic programs include:
Films

         

Lodge's Annual Julefest - Santa Lucia Procession including granddaughters of members, (L to R) Taylor, Charlotte, Gracie
Julefest dessert table beautifully decorated by Karen Nelson & the Sigrid Undset Baker's!

Travelogues
Norwegian Weddings
Music & Dance Performances
Cultural Events & Celebrations
Craft Projects & Demonstrations
Food Demonstrations & Workshops
Talks on Art, Contemporary Issues, Folklore, History, Genealogy, Language & Literature
Lodge's Name
This lodge is named after Sigrid Undset who was born in 1882 in Kalundborg, Denmark, but was raised in Norway. Her archaeologist father died when she was 11, and her mother struggled to raise her three daughters. Sigrid was employed as an office worker at a young age, and began her writing career with several successful novels of women in contemporary Norway, the best known of which is "Jenny".
She married Anders Castus Svarstad in 1912, a Norwegian painter whom she had met in Rome, and they had three children. She struggled to write while tending to her family and running a household. In 1919, she moved to Lillehammer, Norway and built a large, beautiful house, Bjerkebæk. In this comfortable place she began studying and writing her medieval sagas. Her studies of the medieval church motivated her to convert to Catholicism. It was during this time her marriage ended.
In 1928, Sigrid Undset won the Nobel Prize for Literature for her historical novels of life in medieval Norway. The best known of these major works is the trilogy "Kristin Lavransdatter". The three books of the trilogy are the "The Bridal Wreath" (The Garland), "The Mistress of Husaby" (The Wife), and "The Cross". Sigrid's other historical novel cited by the Nobel Prize committee is the four-volume series, "The Master of Hestviken".
When Germany invaded Norway in 1940, she was forced to flee to Sweden, and later to the United States. She supported her country's cause with speeches and writing during the war years. She returned to Norway exhausted in 1945 still devastated by World War II memories—the loss of her elder son and the occupation of her home by the Germans.