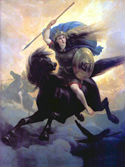 Depiction of Valkyrie
Valkyrien Lodge #1
Founded: October 19, 1905, Seattle, WA
Valkyrien Lodge welcomes you to join them in exploring your Scandinavian heritage!
Meeting Details
When: Second Saturday of each month at 11:00 AM. Social Time begins at 10:30 AM. (Lodge does not meet July & August)
Where: Norse Home, 5311 Phinney Avenue North, Seattle, WA
Contact Us:  Click on this link to contact us.  Be sure to list our lodge if you want more information from us!  Please allow seven days for a return message.  Tusen Takk!
Lodge Highlights
Valkyrien is the first lodge formed in the Daughters of Norway organization. It has been a strong and vibrant group for over one hundred years! They participated in the founding of the Norse Home, a retirement community on Phinney Ridge in Seattle; the Norwegian Women's Chorus (of Seattle); and the Seventeenth of May Parade Organizing Committee.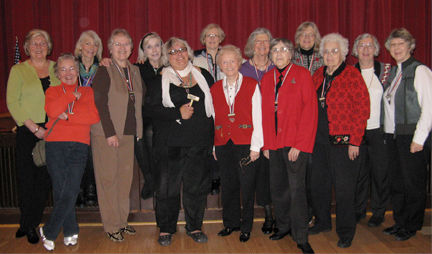 Valkrien Members
Valkyrien Lodge helps to support Norse Home, Barneleikeringen (The Norwegian Children's Dance Group) and the Nordic Heritage Museum, all in Seattle, as well at the Daughters of Norway Scholarship Fund.
Nordic cultural programs offered:
Films
Crafts
Auctions
Rosemaling
Nordic Cooking
Scandinavian Languages
Hardangersom (embroidery)

Valkyrien members have fun!
"Rudolph" Member Camille
Torget, meets Julenisse,
Kåren Sterlington,
at the Julefest.

Valkyrien member was
Seattle's 2008 Leif Erikson
Parade Queen

Music (instrumental & vocal)
Parties & Holiday Celebrations
Guest Speakers (from Various Countries, International Student Exchange Program, Scandinavian Specialists)
Lodge's Name
Valkyrien Lodge was named for the Valkyries of Norse Mythology. At first the Valkyries were the female messengers of Odin, the chief god. Later they were considered to be his warrior maidens, as they rode into battle on horseback to choose the slain. They escorted warriors who died in battle to Valhalla (Odin's castle) and there welcomed them with horns of mead.