Agnes Mathilde Wergeland #52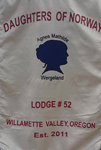 .
Founded: October 2, 2011, Junction City, OR
Meeting Details
When: Fourth Saturday of month at 10:00am (Lodge may not hold regular meetings on holidays in winter.)
Where: Gayle Fletchall Hall, 5th & Greenwood, Junction City, OR
Contact Us:  Click on this link to contact us.  Be sure to list our lodge if you want more information from us!  Please allow seven days for a return message.  Tusen Takk!

A. M. Wergeland August 2023 Newsletter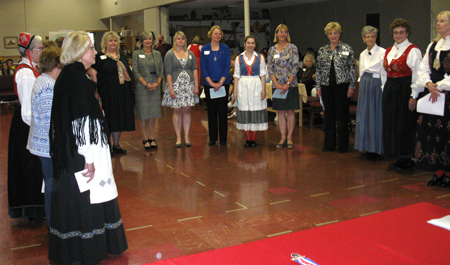 Institution



Lodge Highlights
The Agnes Mathilde Wergeland lodge offers the mid-Willamette Valley Area of Oregon (Junction City/Eugene/Springfield) a group to learn about your Scandinavian heritage. They are active in the Junction City Scandinavian Festival held during the summer.
A few of their programs include Nordic:
Lefse lovers unite
Hardanger embroidery
Famous people
Cultural events & celebrations
Presentations on art, society, folklore, history & genealogy
Officers

Lodge's Name

Lise Løken, (Specialist on
Agnes Wergeland from Norway
wearing an Oslo bunad. Janet
Ruud at lodge institution


The lodge was named for a noted Norwegian-American historian, professor, feminist and poet. She was born on May 8, 1857, in Christiania (modern day Oslo), Norway. Although her parents were not as famous or wealthy as other Wergelands, she and her brother became accomplished in their respective fields. After receiving all the education afforded females in Norway, Agnes continued her education abroad in Germany and later Switzerland. She became the first women from Norway to ever receive a Ph.D. degree (from the University of Zurich in legal history). In order to pursue additional education, she decided to continue her education in the United States.
Agnes took a history fellowship from Bryn Mawr College in Pennsylvania in 1890 where she lectured for two years before moving to Illinois. At the University of Illinois she continued her lecturing in 1893. In 1896, she worked at the University of Chicago. By 1902, she became the history department chair at the University of Wyoming. She taught history, French and Spanish. By 1904, Ms. Wergeland became a US citizen and not long afterwards published her first Norwegian poetry book, Amerika og Andre Digte (America and Other Poems), She had worked on additional books that were published posthumously: Efterladte Digte (Posthumous Poems), History of the Working Classes in France, Leaders in Norway and other Essays, Slavery in Germanic Society During the Middle Ages, Early Christian Romanesque Gothic Architecture, and Modern Danish Literature and its Foremost Representative. She died on March 6, 1914 in Laramie, Wyoming where she was still the chair of the history department.
Agnes is remembered as one of the finest poets in America to write in Norwegian. Ms. Wergeland is honored at the Emigration Center at Radøy Norway as one of two women writers who helped bring the news of life in America to Norwegians hungry to find a better life at the turn of the 20th century.