Stjernen Lodge #7
Founded: August 1, 1910, Astoria, OR
Meeting Details
When: Third Saturday of month at 1:00 pm (Meeting varies in summer months)
Where: First Lutheran Church, 725 33rd Street, Astoria, Oregon 97103
Mailing Address: Stjernen Lodge #7, PO BOX 863, Astoria, OR 97103          
Contact Us:  Click on this link to contact us.  Be sure to list our lodge if you want more information from us!  Pleas allow seven days for a return message.  Tusen Takk!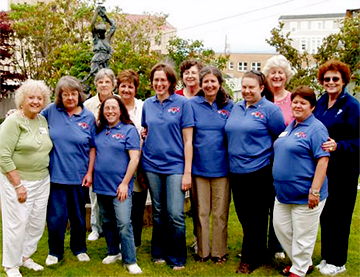 Stjernen Lodge Members
Lodge Highlights
Stjernen has been active in the Astoria Scandinavian community for more than 100 years. They participate in the Scandinavian Midsummer Festival, held in June. This major community event which is over forty years old includes the crowning of a Scandinavian princess, Nordic food booths, crafts, dancing and other festivities. This festival draws people from the entire Pacific Northwest.
The lodges programs and activities include:
Crafts
Dancing
Rosemaling (traditional decorative painting)
Nordic Cooking

Rosettes are delicate
& delicious cookies

Hardangersom Embroidery
practiced by the lodge

Hardangersom (embroidery)
Lodge's Name
This lodge is another of our very special early lodges belonging to the original Daughters of Norway of the Pacific Coast, which officially changed its name to Daughters of Norway in 1950. These lodges generally took their names from Nordic mythology, some heavenly body or a geographical reference. In Norwegian, Stjernen literally means "the star."