Mina Aasen Lodge #55 
Founded: September 25, 2018, Minot, ND
Meeting Details
When: First Sunday of the Month from 2:00 - 4:00 pm. 
Where: Minot Commission on Aging Room, Parker Center, 21 1st Ave SE, Minot ND  - Use the North door.  Also meetings on Zoom.
Contact Us: Minalodge55@gmail.com
Facebook: https://www.facebook.com/groups/minalodge55
Mina Aasen Lodge #55 featured in the Minot Daily News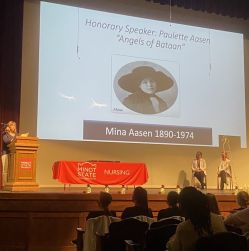 White Coat Ceremony
On August 24, 2021, a great honor was bestowed upon Mina Aasen, the namesake of the Mina Aasen Lodge #55.  The MSU Department of Nursing presented a white coat with special embroidery to her family.  Paulette Aasen, the current president of DON Lodge #55, and great niece of Mina Aasen, spoke about Mina's youth and experiences as an Army nurse. A display of Mina Aasen's white coat, pictures and book about her experiences is now in the MSU Department of Nursing to inspire others..
Paulette Aasen speaking at the MSU White Coat Ceremony

Mina Aasen Lodge Activities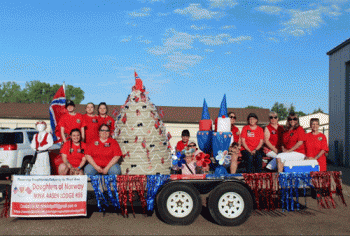 2019 ND State Fair Parade Float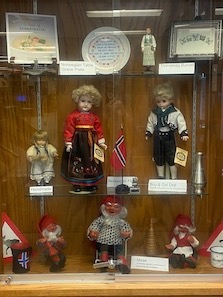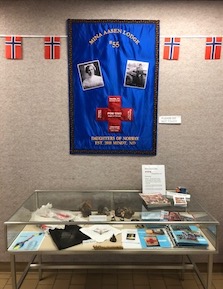 Minot Public Library Display January 2022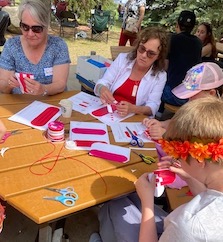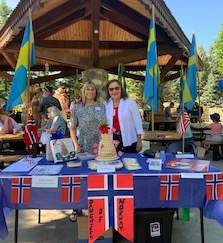 Midsummer Festival June 2021



Lodge Institution Ceremony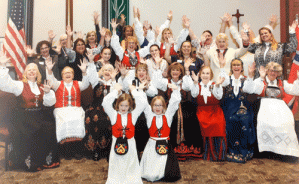 Feiring (Celebration) - Mina Aasen Officers, Grand Lodge Installers, 2018-2019 Mina Aasen President's Daughters!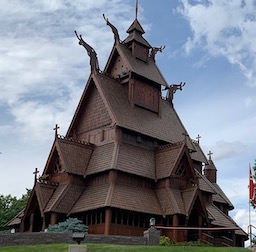 Lodge Highlights
| | |
| --- | --- |
| Norwegian Sweater Types & Show | Kransekake Demo |
| Stave Churches at Heritage Park | Bergen's Gingerbread City |
| Norse Gods & Legends | Ole Brude's Norwegian Lifeboats |
| Jul Fest | Wheat Weaving Activity |
| Søndre Norheim's Ski Story | Norwegian Easter Traditions |
| Making Woven Hearts | St. Lucia Day & Crowns |
| Tatting Demo | Guest Speakers |
| Norsk Høstfest Booth | ND State Fair Parade |
Gol Stave Church Replica in Minot Scandinavian Heritage Park
Lodge's Name
Our lodge unanimously chose Mina Aasen as our name in April 2018.  We chose to name our lodge after Mina Aasen who was from this area, related to several charter members, and a nurse known as one of the Angels of Bataan.  Mina was born to Sigurd Olsen Aasen and Ingeborg (Ellefson) Aasen on April 19, 1890, in Willmar, MN.  Her parents emigrated from the Telemark area of Norway.  She had five siblings: Ole, Tillie, Ida, Anne and Sinius.  In 1896, the family traveled to ND in a railroad cattle car with all their belongings and homesteaded ten miles north of Minot.
Mina attended a rural school, finishing eighth grade.  Later she enrolled at the Columbus Hospital School of Nursing in Great Falls, Montana.  She graduated in 1918 and joined a Red Cross unit headed for France.  But when she got to Washington, DC, she was asked to join the Army Nurse Corps and appointed the rank of 2nd LT, assigned to Walter Reed hospital and several other army hospitals.  In June 1941 she was sent to the Manila military hospital in the Philippines.  When the Japanese bombed Pearl Harbor on Dec. 7th, the medical staff was evacuated to Bataan where they attended the wounded soldiers in the jungle under the trees.  The hospital in Manila had been burned to the ground.  Mina and the 66 other nurses were the first women to experience combat.  They were held as  P.O.W.'s for over three years and became known and honored as the "Angels of Bataan."  They were liberated on Feb. 3rd, 1945.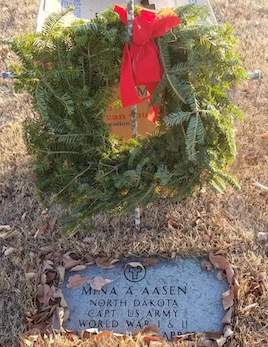 Due to poor health, Mina retired Dec. 31st, 1946, at the age of 56.  She moved to San Francisco where she took up painting and became an accomplished artist.  She enjoyed the art galleries, operas and baseball  games there and always loved to travel.  She returned home to Minot, ND, in 1967, and enjoyed being near family until she died in 1974 at the age of 84.  She is buried in Rosehill Cemetery in Minot, ND.
The Norwegian-American Newspaper ran two stories titled "Memories of Mina" written by our sister Jill Beatty.  To read more about Mina Aasen's life click on the links below.