Thea Foss Lodge #45
Founded: May 29, 2004, Port Townsend, WA
Meeting Details
When: Third Sunday of the month at 1:00 pm (no meetings July/August) with the following exceptions: June, October and December meetings on the 2nd Sunday of the month.
Where: Fred Lewis Scout Cabin, 3075 Discovery Road, Port Townsend, WA 98368. 

Contact Us: email  
Lodge Highlights
Thea Foss lodge meets in Chimacum just south of Port Townsend, in the area locally known as the Tri­Area (Port Hadlock, Chimacum and Irondale) in eastern Jefferson County on the Olympic Peninsula. This active lodge offers many ways to discover your Nordic heritage. Through lodge meetings, programs and small interest groups. This lodge has a Book Club that meets monthly the 1st and 3rd Thursday at 1:30pm. Movies are shown the 2nd Thursday of each month. The Thea Foss Lodge participates in the community sponsored Nordic and the Port Townsend May Rhody Parade. In April, the lodge hosts an annual Scandia dinner and in October a Scandia Fall Fest, (see calendar for more details).  The lodge also works to help fund scholarships for local graduating high school students.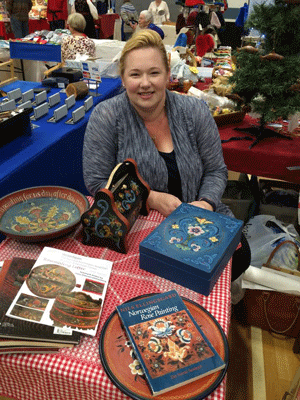 Kari Mathews, Rosemaling Demonstration at Skandia Fest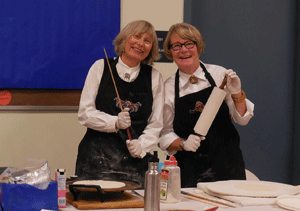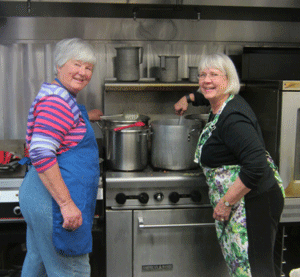 Mary Foster & Debbie Dodd, Lefse Demonstration at Skandia Fest                               Elsa Meadows & Karen Erickson, stirring the pea soup for Skandia Fest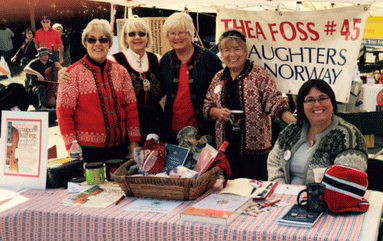 Vi Radditz-Strobridge, Karen Erickson, Elsa Meadows, Chris Nelson-Ardoin, and Mara Dotson
Scandinavian programs offered:
Danish food sampling
Discovering Nordic foods
Tea with Thea
Nordic travels
Bunader by region
Scandia dance party
Danish Christmas customs
Norsk (Norwegian) lessons
Contemporary Swedish authors
Viking Women: Styles & Lifestyles
Swedish Santa Lucia celebration & party
Scandinavian music, instruments & dance
Viking Woman's Tea with interactive participation
Make your own Smørbrød (open faced sandwiches)
Viking Navigation: How the Norsemen Found Their Way
Back to School – Writing a Scandinavian story in fifteen minutes
Proper Norsk words & etiquette for a coffee at a Norwegian home
Modern silver inspired by the past & the Norwegian natural features
History of Nordic Nations: Norway, Denmark, Iceland, Finland & Sweden
Nordic Nation News Broadcast (complete with Lena & Ole's goat cheese advertisements)

Lodge's Name
Thea was born in Eidsberg, Ostfold, Norway on June 8, 1857. In 1880, while in her twenties, she immigrated to the US, settling in MN. In Minneapolis, she married Andreas (Andrew) Olesen Fossen in 1882. Thea and Andrew eventually dropped the en from their last name. They began a family in 1885 and moved to Tacoma by 1889. Andrew built a home for his family on the harbor in what has been called a float house, or a house on logs. Eager to earn money for his family, Andrew was often called away to building projects in other areas for long periods of time. Thea remained with her children on the houseboat. One day, in 1889, a fisherman sailor was upset with his lack of luck fishing and was eager to sell his boat. Thea managed to purchase the boat for $5.00. She put some sweat equity into the boat by painting it up before selling it for a nice profit. Thea continued to purchase boats from other down-hearted sailors at a small sum from her previous profits. This was the beginning of the Foss family shipping business. Their original fleet of boats included four rowboats for hire at any time of the day or night. The waterfront houseboat porch was where Thea conducted business and advertised her boats were always ready for hire. It didn't take long for Andrew to decide that building and repairing rowboats for Thea's rowboat renting business wasn't a bad idea and would yield more money than other carpentry work. Thea's fleet quickly grew to 200 rowboats. They began purchasing larger launches that could transport supplies and people to work areas inaccessible during the high tide. In 1890, the Foss's made some contracts to haul brush and lumber on the waterways of Washington and the first tugboat was purchased. In 1913, the company was called the Foss Launch and Tug Company of Tacoma. They eventually got into the shipyard business in the Tacoma area today known as Thea's Landing Park. During WWI, the company moved its headquarters to Seattle. It eventually became the Foss Maritime Company, and currently operates the largest, most modern tugboat fleet on the West Coast.
Not only was Thea, the President of the company, she was also well known as a wonderful, quiet, hospitable Norwegian mother and excellent cook. She treated her workers as family.
In addition to her roles in the city's early Norwegian immigrant community, Thea served as a founding officer of Embla Lodge #2 of Daughters of Norway (Tacoma). She also helped raise major funding to build Normanna Hall which opened in 1922 and housed the largest Sons of Norway club outside of Minneapolis at the time. The hall is still being used for its original purpose: Celebrating Norwegian Immigrant Culture.
The day before her 70th birthday, June 7, 1927, Thea died. The funeral procession of tugboats in Tacoma's harbor was such a sight that it inspired Norman Reilly Raine to write the Saturday Evening Post's Tugboat Annie series that later became a movie in 1933 and TV sitcom in the 1950's.