Solheim Lodge #20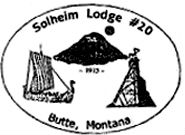 Founded: February 28, 1913, Butte, MT
Meeting Details
When: First Monday of month at 7:00pm (summer meetings vary)
Where: Gloria Dei Lutheran Church, 2300 Florence Av., Butte, MT
Contact Us:  Click on this link to contact us.  Be sure to list our lodge if you want more information from us!  Please allow seven days for a return message.  Tusen Takk!
Lodge Highlights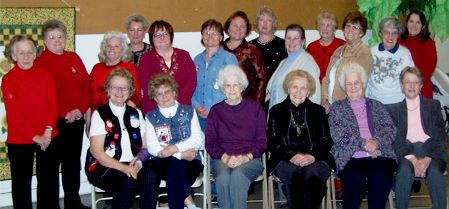 Solheim Lodge members
The Solheim lodge is an active lodge with a long heritage. It has operated for a century and it is the oldest intact Daughters of Norway lodge formed in former mining and ranching communities in Montana. They help make the lefse for the Gloria Dei Lutheran Church's annual lutefisk dinner.
Nordic programs and workshops:
Travel Programs
Nordic Christmas Cookies

Solheim members gather round
the pianist Shirley Mitchem

Kristi O'Leary & Ann Marie
Semsak have fun rolling lefse.

Tomtens & Nisser
Trips to Nordic Events
Hardanger Embroidery
Evening Bonfires with Stories
Nordic Cooking (Lefse & Cookies)
Sharing of Scandinavian Heritage with the Community
Holiday Fests (including Christmas and Syttende Mai Celebrations)
Lodge's Name

The sun is carried in a chariot.
A bronze piece recovered
in 1902 from Trundholm
Moor/Marsh, West Zealand
County, Denmark (1400 BC)
Being one of the oldest lodges in the organization, the lodge's name was chosen from Nordic mythology and heavenly, or geographical inspirations. Solheim, translates roughly, as Home of the Sun. The Sun in Nordic mythology was a female who along with her brother, the Moon, rode on a chariot of gold through the skies. Part of the Nordic creation theory had these two fair children (Sun and Moon) off on paths across the sky traveling at great speeds because they were chased by hungry wolves. In some stories, they are driven round the heavens in chariots drawn by very swift horses.